SMART Rodent Control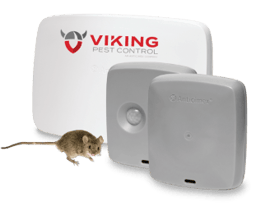 Anticimex SMART is an environmentally-friendly rodent control system exclusively offered by Viking Pest Control. These camera-free devices tell our Pest Control Professionals where the mouse pressure is high, sending data back to Viking's headquarters. Using state-of-the-art technology coupled with pest professionals, we rid your home of mice and other rodent activity. Give us a call to learn more about our SMART Rodent extermination services.
SMART Really Works!



Don't just take our word for it, check out what our clients have to say about Viking Pest and SMART Rodent Control!
Claire Tammaro
"They came, he saw, he conquered!! Since installing our SMART system with Viking Pest we've been having an amazing pest free summer! With the help of our Viking Pest technician, Joel! He periodically comes over to check spots with any activity— the installed devices send any detected activity directly to Viking Pest so they know when to come out! We had mice AND a possum living under our house! It was easy to take care of due to the SMART technology and service of our technician—he handled it immediately! Sitting in our backyard this summer without the hassle of rodents/pests has been a game changer!"
Claire Cohen
"It's been a few months now since we've had our SMART device installed from @vikingpestcontrol, and we love enjoying our pest free home. I won't lie, it was rough earlier this spring not knowing if there were unwanted pests invading our home, but after our follow up visit, we can have peace of mind knowing that they are taken care of a monitored so we can enjoy time together as a family this summer, all thanks to Viking Pest."
Hack Your Home with SMART Rodent Control
SMART is the most effective and environmentally friendly rodent control you can get to protect your New Jersey, Maryland, Delaware, or Pennsylvania home. Are you interested in SMART Rodent Control? Call Viking today for your FREE and NO OBLIGATION estimate at 1-800-618-2847 or Schedule Online today!