Viking Pest is celebrating our 40th anniversary in 2020 and to celebrate, the Viking team will be completing 40 acts of kindness to celebrate 40 years of business. Viking will be participating in, or contributing to, at least 40 volunteer or give back events throughout the year in New Jersey, Pennsylvania, Maryland, and Delaware.
Viking's Mission

Here at Viking Pest, we value our loyal customers and are grateful to have them as part of the Viking family. While Viking strives to provide effective, innovative, and environmentally conscious pest control solutions, we want to do more for our local communities. Our mission for 40 for 40 is to give back to the communities in which we serve and to be a positive contributor through local volunteer programs such as donation collections, fundraisers, and sponsorships.
Viking's 40 for 40 Events
Throughout the year, Viking will be contributing to at least 40 give back events located throughout New Jersey, Pennsylvania, Maryland, and Delaware.
January
January 2020 began the kickoff for Viking's 40 for 40 and our first event was starting a fundraiser for the New South Wales Rural Fire Service which provides the necessary support to all affected by the devastating brush fires happening in Australia. Viking Pest made a pledge to match employee contributions to this fundraiser and the Viking family has proudly raised $1,359 for this wonderful organization.
February
In February, Viking Pest's Southern, NJ office traveled to Philadelphia, PA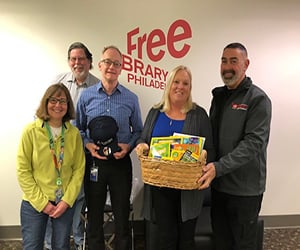 to donate a series of children entomology books to the Free Library of Philadelphia.
The Viking Pest team wants to encourage the education of insects and their biology and their effects on our ecosystem.
The Viking Family also raised $350 for St. Jude's Research Hospital in honor of cancer awareness month in February. We are proud to support a wonderful organization helping children and families and advancing cures to end pediatric cancer.
April
As the COVID-19 Pandemic has swept the world, Viking gave back to communities throughout New Jersey to help stop the spread of bacteria and viruses, and to say thank you to those working on the front lines of the pandemic. Viking Pest's Northern New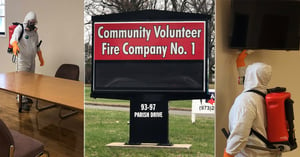 Jersey team generously donated a Pro-Clean Disinfectant service to the Community Volunteer #1 Firehouse located in Wayne, New Jersey. Their team disinfected and sanitized common areas in the firehouse to help stop the spread of bacteria and viruses.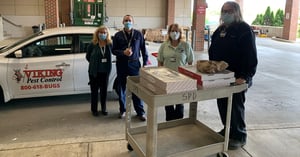 Viking Pest's branches throughout New Jersey also generously donated lunch to hospitals throughout New Jersey to the hard-working medical staff members to show our appreciation and to say thank you for their continued selfless work. Viking Pest family members also created thank you signs that were collected and sent to local hospitals throughout our service area. Thank you to every Viking team member who participated!
May
As schools throughout New Jersey, Pennsylvania, Maryland, and Delaware remain closed due to COVID-19, Viking Pest has created a fun and educational Activity Book for your child.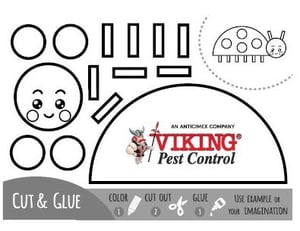 To receive your FREE download of Viking Pest's Activity Book, simply fill out the form on this page, and your Activity book will be sent directly to your inbox.
June
Viking Pest was a proud Sponsor of Girls on the Run Hunterdon, Bucks & Warren Counties. Girls on the Run's intentional life skills curriculum and highly trained coaches positively impact girls' lives by helping them increase their self-confidence, develop healthy relationships and feel good about themselves. If you would like to donate to this wonderful organization, please visit: https://www.gotrhunterdon.org/Donate
July
Viking Pest sponsored a tent outside of our corporate office for all building tenants to enjoy during breaks. Our team realized with limited seating areas to utilize during the day, we needed to find a solution for people to enjoy their lunch while remaining socially distant from others.
Viking's Corporate Office also collected pantry items to be donated to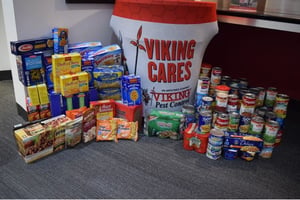 the Food Bank Network of Somerset County. The mission of The Food Bank Network is to distribute food and to provide other basic human needs to those less fortunate in our community in a manner which recognizes and advances self-worth and human dignity. With many families facing hardships during the COVID-19 pandemic, the food bank needs support now more than ever. To donate, please visit https://somersetfoodbank.org/donate/ for more information.
August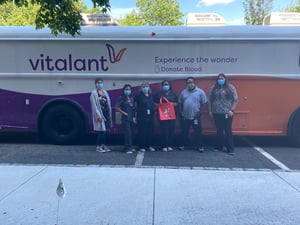 Viking hosted our first blood drive with Vitalant New Jersey. As we continue the fight against COVID-19, many blood drives have been cancelled, and blood donations are needed now more than ever. Viking Pest was proud to host a blood drive at our corporate office, and we want to thank the entire Vitalant team as well as all who donated.
Stay Updated on Upcoming Events
Check back here throughout the year to stay up to date on Viking's mission of completing 40 acts of kindness in celebration of 40 years of service.