Viking Pest's 40 for 40
Viking Pest is celebrating our 40th anniversary in 2020 and to celebrate, the Viking team will be completing 40 acts of kindness to celebrate 40 years of business. Viking will be participating in, or contributing to, at least 40 volunteer or give back events throughout the year in New Jersey, Pennsylvania, Maryland, and Delaware.
Viking's Mission

Here at Viking Pest, we value our loyal customers and are grateful to have them as part of the Viking family. While Viking strives to provide effective, innovative, and environmentally conscious pest control solutions, we want to do more for our local communities. Our mission for 40 for 40 is to give back to the communities in which we serve and to be a positive contributor through local volunteer programs such as donation collections, fundraisers, and sponsorships.
Viking's 40 for 40 Events
Throughout the year, Viking will be contributing to at least 40 give back events located throughout New Jersey, Pennsylvania, Maryland, and Delaware. January 2020 began the kickoff for Viking's 40 for 40 and our first event was starting a fundraiser for the New South Wales Rural Fire Service which provides the necessary support to all affected by the devastating brush fires happening in Australia. Viking Pest made a pledge to match employee contributions to this fundraiser and the Viking family has proudly raised $1,359 for this wonderful organization.
February
In February, Viking Pest's Southern, NJ office traveled to Philadelphia, PA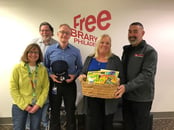 to donate a series of children entomology books to the Free Library of Philadelphia.
The Viking Pest team wants to encourage the education of insects and their biology and their effects on our ecosystem.
The Viking Family also raised $350 for St. Jude's Research Hospital in honor of cancer awareness month in February. We are proud to support a wonderful organization helping children and families and advancing cures to end pediatric cancer.
Stay Updated on Upcoming Events
Check back here throughout the year to stay up-to-date on Viking's mission of completing 40 acts of kindness in celebration of 40 years of service. Fill out the form on this page to receive emails from Viking Pest to stay up-to-date on 40 for 40 events.